How Virtual Reality Worlds Elevate Senior Living Communities
In the ever-evolving landscape of technology, the once-niche phenomenon of virtual reality (VR) is rapidly transforming into a force for positive change in the senior living industry.
As we age, the importance of social connection, mental well-being, and community trust becomes increasingly vital.
Vi Senior Living's pioneering study, in collaboration with Rendever, a Boston-based technology company, explores the profound impact of immersive VR experiences on the lives of senior residents.
Over the course of eight weeks, residents at Vi at Bentley Village in Naples, FL, embarked on a transformative journey through the world of virtual reality, with astonishing results that demonstrate the potential for VR to revolutionize senior living communities.
The Study of Virtual reality on elderly
Before delving into the immersive world of VR, Vi Senior Living meticulously assessed the health and well-being of their residents.
Employing evidence-based screenings, questionnaires, and surveys, a baseline was established to measure changes.
These assessments were conducted weekly throughout the study, and post-screenings at the program's conclusion allowed for a comprehensive analysis of the impact of VR on the residents' lives.
During the eight-week experiment, residents participated in VR classes led by a skilled staff facilitator. These classes, lasting between 40 to 50 minutes, were held three days a week and featured a variety of virtual excursions and tours.
These experiences transported seniors to different locations, allowing them to explore, learn, and interact. The facilitator enriched the experiences with fascinating facts, and residents were encouraged to ask questions and share their own stories.
Remarkable Outcomes
The results of the study revealed a profound impact on the residents' lives, encompassing their social health, sense of community trust, and overall well-being.
Enhanced Social Network
Astonishingly, every participant showed significant improvement in their overall social network score. This outcome highlights the potential for VR to revitalize social connections among seniors, who may face isolation and loneliness.
Increased Social Engagement
83% of the residents experienced a significant expansion of their social networks and attended more social events. VR effectively bridged the gap between seniors, enabling them to break down social barriers and actively participate in community life.
Improved Mental Health
The study showed that 67% of participants experienced significant improvement in their depression index scores. Additionally, they reported substantial enhancements in the quality of life and thriving indices. VR has emerged as a potent tool to combat feelings of depression and enhance mental well-being among senior residents.
Greater Satisfaction and Inclusion
The residents expressed a remarkable 33% increase in their satisfaction with the community. Furthermore, 36% of participants felt more included in the community, reinforcing the sense of belonging and trust.
The Nonpharmacologic Power of Virtua Reality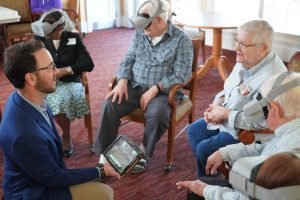 Jennifer Stamps, the Director of Research at Rendever, underscores the nonpharmacologic power of the VR platform.
The study consistently demonstrated significant increases in various measures of social health and connection.
Additionally, participants reported improvements in depression and mental health indices, as well as subjective measures of energy levels, physical health, memory, and enthusiasm for life. This innovative approach empowers seniors to lead fuller lives, regardless of physical, cognitive, or geographical obstacles.
Expanding the Reach of Virtual Reality
The remarkable success of the study has led to the integration of VR into daily activities for assisted living, memory care, and skilled nursing residents at Vi at Bentley Village.
Furthermore, Vi Senior Living has expanded its use of the platform to Vi at Aventura in Aventura, FL, and Vi at Grayhawk in Scottsdale, AZ. With future plans to roll out the program across their entire portfolio, Vi Senior Living is steadfast in its commitment to enhancing the lives of its residents and fostering a strong sense of community and trust.
Conclusion
The Vi Senior Living and Rendever collaboration represents a significant leap forward in the integration of VR technology to positively impact the lives of senior residents in assisted living communities. The results of the eight-week study provide concrete evidence that VR has the potential to enhance social health, community trust, and overall well-being among seniors.
As this innovative approach gains momentum, it offers hope for a brighter and more fulfilling chapter of life for our beloved senior citizens, reinforcing the idea that technology has the power to transcend generations and create a better future for all.