Happiness for Beginners Netflix
In a world filled with blockbuster explosions and dramatic plot twists, sometimes all we need is a story that resonates with our innermost desires and struggles. Enter "Happiness for Beginners," a delightful Netflix romcom set to grace our screens on July 27, 2023, starring none other than the charming Ellie Kemper. If you're a fan of Kemper from her iconic roles in "The Office" and "Unbreakable Kimmy Schmidt," get ready to see a whole new side of her.
The Plot Unveiled Happiness for Beginners Netflix
The movie's premise revolves around Helen, a recent divorcee who, in a bid to rediscover life and love, embarks on an Appalachian Trail survivalist course. Sounds like a quirky adventure already, right? But there's a twist – her younger brother's best friend, Jake, is also along for the ride. And, as you might have guessed, sparks are bound to fly.
Ellie Kemper: The Heart of the Film
Helen, portrayed by the ever-talented Ellie Kemper, finds herself at a crossroads in her life. She's always played it safe, and the divorce has left her yearning for something more. It's a relatable theme that many of us have faced at some point in our lives – that desire for change, for a fresh start, and to break free from our comfort zones.
The Supporting Cast of Happiness for Beginners Netflix
Joining Kemper on this heartwarming journey are some familiar faces you might recognize. Luke Grimes, known for his role in "Yellowstone," plays Jake, a character who challenges Helen's preconceptions and adds a dash of humor to the mix. The chemistry between Kemper and Grimes promises to be one of the movie's highlights.
Nico Santos: Known for his role in "Crazy Rich Asians" and "Superstore," Santos brings a warm and positive energy to his character, Windy. He delivers one of the movie's most heartfelt moments, resonating with the film's title.
Shayvawn Webster: As the upbeat Windy, Webster's character adds a layer of positivity to the group dynamic, and her performance is uplifting.
Ben Cook: While primarily known for his stage work, Cook's on-screen presence in this film is noteworthy. He plays Beckett, the leader of the survival course, with a surprising depth and charm.
Blythe Danner: A treasure of the screen, Danner's performance as Helen's grandmother adds an extra layer of warmth and wisdom to the story.
Gus Birney and Julia Shiplett: Birney's character, Kaylee, provides one of the film's most surprising revelations, and Shiplett delivers a memorable performance as Sue.
A Visual and Auditory Feast
As we follow the characters on their 81-mile trek through the stunning landscapes of Connecticut and New York, we're treated to breathtaking cinematography, soul-stirring music, and even a touch of poetry. The film's visual and auditory elements are sure to immerse viewers in the natural beauty of the trail and the emotional depth of the story.
Surprises and Resonance
But what truly sets "Happiness for Beginners" apart is its ability to surprise and resonate with its audience. Every character has a chance to break free from their stereotypes and reveal hidden facets of their personalities. It's a reminder that, in real life, people are often more complex than they appear on the surface.
Ellie Kemper's Stellar Performance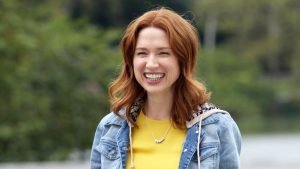 At the heart of it all, Ellie Kemper shines as Helen. It's a role that allows her to display a level of subtlety, depth, and complexity beyond her more bubbly characters. She takes us on an emotional journey, from the joys of the past to the sorrow, anger, and resilience of the present. Kemper's performance is a testament to her versatility as an actress.
Vicky Wight's Directorial Touch
While "Happiness for Beginners" may follow a somewhat predictable romantic comedy formula, it's the execution and the performances that make it special. Writer and director Vicky Wight, known for her previous collaboration with Kemper on "The Lost Husband," infuses the film with both humor and moments of quiet reflection.
The Message of Gratitude
As the characters navigate their way through the Appalachian Trail, we're reminded that the first step to happiness for beginners is often gratitude. It's a simple but profound message that resonates with anyone seeking a fresh start, a deeper connection, or a new lease on life.
Conclusion
In a world that can often feel chaotic and overwhelming, there's something truly special about finding a film that offers a refreshing escape. "Happiness for Beginners," available on Netflix, promises to do just that. Set to premiere on July 27, 2023, this heartwarming romcom invites you to join in on a journey of self-discovery, love, and the pursuit of happiness. With the ever-charming Ellie Kemper leading a fantastic ensemble cast, it's a date you won't want to miss.
Life can throw its fair share of curveballs, leaving us yearning for a little more simplicity and joy. This film seems to promise just that. So, make a note on your calendar, gather your loved ones, or simply treat yourself to a cozy night in. Get ready to embark on a cinematic journey filled with laughter, love, and the kind of happiness that reminds us of the beauty in life's simple pleasures.