How Office Shoes Shape Your Professional Persona
When it comes to corporate fashion, every little detail holds significance. The way you present yourself, from wearing well-tailored suits to coordinating your accessories perfectly, has a significant impact on shaping your professional image.
The humble office shoe is often overlooked, but it is an essential element of this attire. Choosing the right pair of shoes may appear to be a simple decision, but it can actually portray a great deal about your personality, work ethic, and level of attentiveness.
Welcome to this blog where we will explore the significance of office shoes in defining your professional image. We will also provide you with some trendy suggestions to ensure you make a stylish impression.
Why Office Shoes Matter
Attention to Detail:
When you enter a boardroom or a client meeting, it's not only what you say that matters – your appearance communicates a lot too. Your choice of office shoes says a lot about your attention to detail and how seriously you take your professional image.
Confidence Booster:
Finding the perfect pair of shoes can truly work wonders for boosting your confidence. Wearing a pair of well-fitted and stylish shoes can have a positive impact on your confidence and demeanour. It can make you feel more composed and self-assured, giving you the ability to handle difficult situations with greater ease.
Professionalism:
The choice of footwear you opt for conveys a distinct message regarding your professionalism. Traditional leather shoes have a certain air of formality and tradition, evoking a sense of established elegance. On the other hand, modern shoe styles often convey a touch of creativity and versatility.
Style & Personality:
Your office shoes have the potential to reflect your personal style. No matter if you prefer a classic and elegant style or a bold and trendsetting look, the shoes you choose can enhance your personality while still following the corporate dress code.
Making Your Footwear Work for You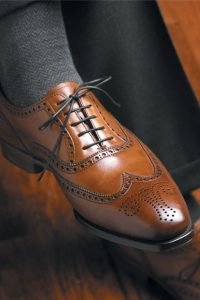 Classic Elegance:
Every professional should have a classic pair of black or brown leather oxfords or loafers in their wardrobe. These timeless shoes are essential for a polished and professional look. These versatile options are incredibly sophisticated and can be effortlessly paired with a wide variety of suits and dresses.
Modern Twist:
Consider choosing a fashionable pair of ankle boots that feature a subtle heel, as it adds a modern and trendy element to your outfit. These pieces effortlessly combine formal and trendy styles, bringing a touch of personality to your outfit.
Feminine Chic:
Women can opt for pointed-toe pumps in neutral tones or subtle patterns, which are not only stylish but also suitable for the office. These shoes make your legs look longer and go well with various outfits, including skirts and pantsuits.
Color Pop:
Feel free to add a touch of colour to your shoe selection without hesitation. You can consider incorporating colours like deep burgundy, navy, or even a subtle shade of green to bring a touch of individuality to your professional appearance without sacrificing professionalism.
The Power of Flats:
Having a comfortable office environment is extremely important. You might want to consider opting for some fashionable ballet flats or loafers that provide a perfect blend of comfort and style. These shoes can give you a polished and professional look without the discomfort that often comes with wearing high heels.
Texture Play:
Why not try experimenting with different textures such as suede, patent leather, or even metallic finishes?
They can add an extra layer of sophistication to your look. Make sure that the shoes you choose match well with your entire outfit and are appropriate for the culture of your workplace.
The Right Way to Choose Office Shoes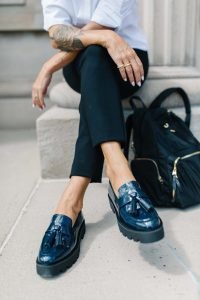 Comfort:
Don't ever sacrifice comfort for the sake of style. Make sure your office shoes offer proper support and don't cause any discomfort since you'll be spending long hours wearing them.
Dress Code:
Every workplace has its own unique dress code requirements. Make sure you fully comprehend and follow your company's policies, while also expressing your own personal style.
Quality Matters:
I highly recommend investing in high-quality shoes. While they may be more expensive, high-quality items tend to have a longer lifespan and retain their visual appeal. This can contribute positively to your professional image.
Versatility:
Select shoes that effortlessly transition from day to night, seamlessly taking you from professional meetings to enjoyable after-work events. To maximise your investment, it is important to prioritise versatility.
Maintenance:
It's important to make sure you clean and polish your office shoes on a regular basis. Wearing scuffed or worn-out shoes can detract from an otherwise flawless outfit.
FAQs
Which is best shoes for office work?
Leather Oxfords
Loafers
Ankle Boots
Pointed-Toe Pumps
Brogues or Wingtips
Ballet Flats
Derby Shoes
Wedge Heels
Low Heel Pumps
Monk Strap Shoes
Can I wear sneakers to office?
Whether or not it is appropriate to wear sneakers to the office will vary depending on the culture of your workplace, the type of work you do, and how well your outfit coordinates with them. Finding a middle ground between feeling comfortable and looking professional is definitely a wise approach. If you're not sure, it's better to be cautious and opt for more conventional office shoes.
Do good shoes make a difference at work?
Indeed, high-quality footwear can greatly influence one's performance in the workplace. Wearing professional attire not only boosts your appearance and confidence, but also showcases your meticulousness and dedication to your job. Wearing comfortable and appropriate shoes is important for your overall well-being. It also has a positive impact on the first impressions you make and how your colleagues and clients perceive your credibility and capability.